Das Super Nintendo ist zurück!
Mit dieser Ankündigung hat Nintendo mit einem Schlag Millionen Fans glücklich gemacht. Nach dem NES Classic wird nun nämlich das Super Nintendo Entertainment System Classic folgen.
Nostalgiefreunde werden hier sicherlich auf ihre Kosten kommen, denn die kleine Konsole verfügt über 21 vorinstallierte Spiele, darunter natürlich die üblichen Klassiker wie Super Mario, Zelda, Donkey Kong und mein absolutes Lieblingsspiel Secret of Mana. Hier die vollständige Liste der Spiele:
Contra III The Alien Wars (europäischer Titel: Super Probotector: Alien Rebels)
Donkey Kong Country
EarthBound
Final Fantasy III (japanischer Titel: Final Fantasy VI)
F-ZERO
Kirby Super Star (europäischer Titel: Kirby's Fun Pack)
Kirby's Dream Course
The Legend of Zelda: A Link to the Past
Mega Man X
Secret of Mana
Star Fox (europäischer Titel: Starwing)
Star Fox 2
Street Fighter II Turbo: Hyper Fighting
Super Castlevania IV
Super Ghouls 'n Ghosts
Super Mario Kart
Super Mario RPG: Legend of the Seven Stars
Super Mario World
Super Metroid
Super Punch-Out!!
Yoshi's Island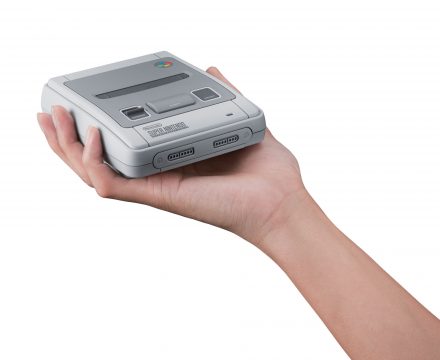 Das SNES wurde insgesamt ca. 48 Millionen Mal verkauft und gehört damit zu den erfolgreichsten Konsolen der Welt. Auch bei mir war das SNES die erste Spielekonsole und ich habe unzählige Stunden mit meinem Lieblingsspiel Secret of Mana verbracht.
Die Super Nintendo Classic Konsole wird in den USA ab dem 29. September 2017 für 80 US-Dollar auf den Markt kommen. Ein Preis für Deutschland wurden leider bisher noch nicht genannt.
Meine Meinung
Während ich bei der NES Classic nicht zugeschlagen habe, da ich mit dem NES nicht wirklich in meiner Kindheit in Berührung gekommen bin, so wird die SNES Classic mit Sicherheit bei mir im Wohnzimmer landen. Ihr könnt euch gar nicht vorstellen wie scharf ich darauf bin endlich wieder Secret of Mana zu spielen! Es wird toll und ich kann es kaum abwarten!