Neue WoW Maus von SteelSeries

SteelSeries
stellt eine neue
World of Warcraft Gamingmaus
vor. Die Maus ist in Zusammenarbeit mit Blizzard, den Machern von
World of Warcraft
, entstanden. Mit den
14 programmierbaren Tasten
ist die Maus auf jeden Fall etwas für
MMORPG
Spieler
. Der Look der Maus hat ein wenig was von einem
Industrial Look
.
Die Maus wird im Dezember, pünktlich zum Launch von World of Warcraft: Cataclysm am 7. Dezember auf den Markt kommen und hier in Deutschland 89,99€ kosten.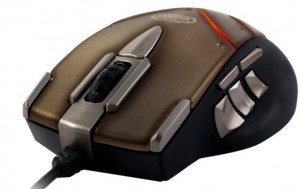 Pressemitteilung
SteelSeries Announces New MMO Gaming Mouse Designed for Blizzard Entertainment's World of Warcraft®

SteelSeries' World of Warcraft®: Cataclysm™ MMO Gaming Mouse Offers Players Enhanced Functionality and Superior Ergonomics

CHICAGO–(BUSINESS WIRE)–Today, SteelSeries, the leading manufacturer of professional gaming peripherals and creator of the original World of Warcraft® MMO Gaming Mouse, announces a new MMO gaming mouse co-developed with Blizzard Entertainment. With a unique exterior that evokes the armored plating of Deathwing the Destroyer, the World of Warcraft: Cataclysm™ MMO Gaming Mouse delivers superior ergonomics and an intuitive button layout with advanced software functionality.

"Since the release of the original World of Warcraft MMO Gaming Mouse in 2008, we've received feedback from thousands of World of Warcraft players, both Horde and Alliance, on how they've customized their World of Warcraft mice and what they would like us to do next," said Bruce Hawver, SteelSeries CEO. "For two years, our R&D team worked hard with Blizzard Entertainment to incorporate the great feedback and to enhance the mouse technology and game integration. The new Cataclysm mouse is the result of that collaboration: it provides a wide range of customization options and delivers a more comfortable, intuitive, and ultimately better experience."

Armored Comfort and Control

The ergonomically designed SteelSeries World of Warcraft: Cataclysm MMO Gaming Mouse has an intuitive 14-button layout. Its fine tuned ergonomics and button positioning provide players with the ability to comfortably use all the extended buttons. Macros and controls can be assigned to all buttons directly from within the game. Together with its 16-million color illumination options, 4 pulsation levels, the ability to save up to 10 character-linked profiles in the software and 1 profile directly on the mouse, players have a wide range of options to customize their gaming experience.

The drag and drop software empowers players to:

Program all 14 buttons with more than 130 preset game commands
Create custom macros and/or use the in-game macro scripting language
The SteelSeries World of Warcraft: Cataclysm MMO Gaming Mouse features best in class technical specifications including:

Frames Per Second: 11,750
Inches Per Second: 150
Counts Per Inch: 90 – 5,040 ( DPI / CPI )
Lift Distance: 1 – 5mm
14 Programmable Buttons
Cable: 2.5 m / 8.2 ft Braided Nylon
Mac and PC Compatible
The SteelSeries World of Warcraft: Cataclysm MMO Gaming Mouse is $99.99 USD / €89.99 EUR MSRP and will be available at the December 7, 2010 launch of World of Warcraft: Cataclysm. The mouse will be previewed to gamers for the first time at the SteelSeries booth during BlizzCon® on October 22-23, 2010.

About SteelSeries

SteelSeries is a leading manufacturer of gaming peripherals and accessories, including headsets, keyboards, mice, software and gaming surfaces. SteelSeries has been on the forefront of professional gaming gear since its inception in 2001, thanks to continued innovation and product development in cooperation with leading professional gamers. All SteelSeries products are developed in cooperation with professional gamers to ensure optimum performance and durability. SteelSeries supports the growth of competitive gaming and electronic sports through professional team sponsorships and community support all over the world. For more information, please visit www.SteelSeries.com.

About Blizzard Entertainment, Inc.

Best known for blockbuster hits including World of Warcraft® and the Warcraft®, StarCraft®, and Diablo® series, Blizzard Entertainment, Inc. (www.blizzard.com), a division of Activision Blizzard (NASDAQ: ATVI), is a premier developer and publisher of entertainment software renowned for creating some of the industry's most critically acclaimed games. Blizzard Entertainment's track record includes twelve #1-selling games and multiple Game of the Year awards. The company's online-gaming service, Battle.net®, is one of the largest in the world, with millions of active players.