Alte Konsolenklassiker wieder neuaufzulegen scheint gerade im Trend zu sein. Nachdem Nintendo mit dem NES Classic und dem SNES Classic vorgelegt hat, folgte Atari mit seiner AtariBox und Nun kommt auch der legendäre C64 in einer neuen Mini-Variante auf den Markt.
Der Commodore 64 gilt als der meistverkaufteste Heimcomputer der Welt, die Verkaufszahlen liegen schätzungsweise zwischen 12,5 und 30 Millionen Exemplaren. Da ist es also kein Wunder dass nun eine Miniaturvariante erscheint. Denn auch jetzt, zum 35. Jubiläum des C64 hat der Heimcomputer noch eine große Fanbase.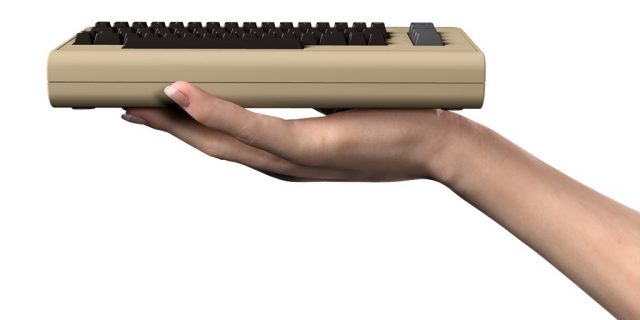 Bild: Koch Media
Mit der Mini-Konsole THEC64 Mini kommt die Legende in euer Wohnzimmer. Das Set besteht aus dem Heimcomputer in Miniaturausführung uns einem Joystick um die vorinstallierten Games zocken zu können. Dank zwei USB-Ports kann weitere Peripherie angeschlossen werden, z.B. laut Pressemitteilung eine Tastatur. Das würde auch bedeuten dass die Tasten des Gerätes wohl nur zur Show da sind. Mit einer angeschlossenen Tastatur kann man dann z.B. BASIC-Befehle eingeben und neue Spiele programmieren.
Bilder: Koch Media
Passend zum Namen gibt es auch gleich 64 vorinstallierte Spiele, darunter absolute Klassiker wie California Games, Speedball 2: Brutal Deluxe, Paranoid oder Winter Games. Hier eine vollständige Liste der 64 Games.
AlleyKat, Anarchy, Armalyte: Competition Edition, Avenger, Battle Valley, Bounder, California Games, Chip's Challenge, Confuzion, Cosmic Causeway: Trailblazer II, Creatures, Cyberdyne Warrior, Cybernoid II:  The Revenge, Cybernoid: The Fighting Machine, Deflektor, Everyone's A Wally, Firelord, Gribbly's Day Out, Hawkeye, Heartland, Herobotix, Highway Encounter, Hunter's Moon, Hysteria, Impossible Mission, Impossible Mission II, Insects In Space, Mega-Apocalypse, Mission A.D, Monty Mole, Monty on the Run, Nebulus, Netherworld, Nobby the Aardvark, Nodes Of Yesod, Paradroid, Pitstop II, Rana Rama, Robin Of The Wood, Rubicon, Skate Crazy, Skool Daze, Slayer, Snare, Speedball, Speedball II:  Brutal Deluxe, Spindizzy, Star Paws, Steel, Stormlord, Street Sports Baseball, Summer Games II, Super Cycle, Temple of Apshai Trilogy, The Arc Of Yesod, Thing Bounces Back, Thing on a Spring, Trailblazer, Uchi Mata, Uridium, Who Dares Wins II, Winter Games, World Games, Zynaps
Bild: Koch Media
Der THEC64 Mini wird im Frühjahr 2018 auf den Markt kommen und eine UVP von 79,99 Euro erhalten.